As the giant Gadget-Freak that I am it has been a longtime dream of mine to have a 3D printer of my own. Sadly, most printers you see are extremely expensive or have a big learning curve (DIY printers). This combined with the fact that I didn't really have any ideas for projects I could use one for. But then GearBest gave me the chance to test the Alfawise U20 3D printer.
When searching online for the Alfawise U20, a lot of people are comparing it to the Creality CR-10 3D printer. What's amazing about this, you ask? Well, the Alfawise U20 comes in at more than half the price of the CR10! No wonder people are calling the U20 a CR-10 killer.

Now, with the Alfawise U20 3D printer I begin my journey into the world of 3D printing. With a shortcut to Thingiverse, I'm really excited to start experimenting with this new and innovative piece of technology.
In this review, I'll be discussing the Alfawise U20 3D printer and all the things you need to keep in mind when making your first 3D print. I'm inviting you to come along with me on my journey with 3D printing.

Disclaimer: first read this review before you start on your own printing job. There are a few things that I came across that I'll discuss in this review so that your first time printing will be smooth sailing. The world of 3D printing is also new to me, and there are a lot of things to take into consideration before you start with your first print.
Alfawise U20 3D printer – Rival to the Creatily CR-10?
The Alfawise U20 is a budget alternative for the widely known Creatily CR-10 3D printer. 3D printing started as a niche hobby, with niche prices. Over the last few years, 3D printers have started to drop in price, with the DIY build-kits starting to get cheaper and cheaper. The CR-10 is one of the most widely know models, with a price around €500,- if you know where to look.
The Alfawise U20 is Gearbest's answer to the niche market. Alfawise is a brand owned by Gearbest and it sells more than just 3D printers. The printers are manufactured by other companies, with the brandname Alfawise slapped on it afterwards. For example, the steppers seem to come from the manufacturer TRONXY. This model almost seems like an exact copy of the Creatily CR-10, but with a much more affordable price tag.
Specifications Alfawise U20
Brand: Alfawise
Type: DIY
Model: U20
Engraving Area: 300 x 300 x 400mm
Frame material: Aluminum Alloy
Nozzle quantity: Single, A Nozzle diameter: 0.4mm and a Nozzle temperature: Room temperature to 250 degree
Layer thickness: 0.1-0.4mm
Memory card offline print: SD card
LCD Screen: Yes
Print speed: 20 – 150mm / s
Supporting material: ABS,Carbon Fiber,PLA,TPU
Material diameter: 1.75mm
Language: Chinese,English
File format: G-code,STL
XY-axis positioning accuracy: 0.012mm
Z-axis positioning accuracy: 0.004mm
Voltage: 24V
Host computer software: Cura,Repetier-Host
Packing Type: unassembled packing
System support: Windows / Linux / MAC
Connector Type: SD card,USB
Expectations
Most of the things we review here are home automation appliances. There's a lot of fiddling around with software, but the product is mostly complete when you unpack it, which makes installing a breeze. This time, however, I expected a bigger challenge.
The Alfawise U20 is a build it yourself 3D printer. The kit includes all the parts and instructions you need to set it up yourself, and calibrate it of course. I expected it to be an adventure to set up and learn all there is to know about the software, the drivers and the temperatures and different materials. I was fully aware this wasn't going to be an easy project. But then again, what would be the fun in that, right?
Packaging
Product weight: 12.0000 kg
Package weight: 14.5400 kg
Product size: 39.50 x 57.50 x 61.20 cm / 15.55 x 22.64 x 24.09 inches
Package size: 61.60 x 50.00 x 24.00 cm / 24.25 x 19.69 x 9.45 inches
No it doesn't fit into you mailbox 😛 and yes it's more heavy and bigger then the rest of my usual china packages.
What's in the box
Unassembled Alfawise U20 3D Printer
Tools
USB Cable
Micro SD-card (with software, driver and manual) and a USB adapter for it.
There's no manual included in the box. Luckily, we live in an age where internet is around, so here is a a link to an update manual. But on the SD-card there is also a pdf manual.
Features of the Alfawise U20
Alfawise U20 is an incredible 3D printer for professionals and amateurs. It requires the least effort to set up, so you will be able to finish assembly in just 5 minutes. It boasts high cost-performance ratio – any DIY enthusiast will not be unable to resist. U20 has a large build volume – 300 x 300 x 400mm – designed for big challenges. More importantly, printing with Alfawise U20 is hassle-free because the two resume functions prevent any imperfection and failure due to power outage and filament run-out. Control the process and set parameters on the touchscreen. Enjoy easier and more successful 3D printing!
Main Features as mentioned on Gearbest:
●300 x 300 x 400mm big build volume to print more exciting models
●Precision printing with standard 0.4mm diameter nozzle, accurate alignment, and up to 150mm/s speed
● More successful in 3D printing with filament run-out protectionandpower outage protection
●2.8" full color touchscreen for more intuitive control
●Fast and easy assembly, only 5 minutes needed to get started
●Reinforced aluminum alloy construction, wear-resistant, and durable
● 100 Deg.C max. heat bed temperature, 250 Deg.C max. nozzle temperature for various filaments, such as PLA, ABS, PVA, PP, TPU, wood filled, etc.
● Automatic leveling function improving our work efficiency, and easy to operate
Unboxing and start
First, unpack all the stuff from the packaging. Then, organize all your parts, so there easier to find when you need them. Use the screws to assemble the top part onto the bottom part, and the only thing after that is to connect the cables. Easy as that!
There are a few tools included to adjust the screws for a better fit. I actually didn't need them, so good job on Alfawise's part.
But please check this video to see how easy assembly and leveling is.


My first print!
When I build the printer and turned on I immediately installed the software and printed a part (for my china go pro).
But when printing the next item I run into some beginners faults.
The printer was not correctly leveled, the cables on my heat bed got loose, I sliced the models incorrect. So the prints were not perfect.
So when buying the printer, make sure you read this whole article and don't make the same mistakes I did. It saves you time and money.
Software
After installing the Cura (slicer) software I updated the firmware of the printer and I was ready to print.
You can print on 2 methods, put your print job on the SD-card and plug it in the printer, or use the USB cable and give a printjob from your pc.
I used the SD-card because my printer stands in another room. But please make sure you are next to it when printing your first jobs, to make sure everything goes well and if not, you can respond immediately.
From model to print
You need only the driver when connected by USB cable. Otherwise, you can slice your model and start printing. What's a slicer or slicing?
A slicer is software where you can load a model and give various parameters and set several settings like speeds, infill percentages, temperatures etc. all slicers have tons of settings and the settings are very important. The settings make a difference between a good print and a failed print. That's why it's so important to know how slicers work and how each different setting will affect your print.

Cura 15 is delivered on the SD-card, but it is an older version. Nothing wrong with that, it worked and there was also a file with the optimal cura 15 settings for the printer. But I always like the latest version and Cura had already version 3.5 which is 2 years of development later than the 2 years old version 15. Cura can be downloaded for free on: Download latest Cura here.
To set the optimal slider settings you need to learn a few new words like: brim, support, skirt, retraction, infill etc. Those settings can be tweaked and are very important. There is not one optimal setting for every print. It depends on the material you print, the complexity of the model you print and your printer.

So my advice is to use the latest software and go setting by setting through it. This video shows some basic settings which can be a little different on other sliders or versions of cura, these are the most important settings. so good to check them with help of this video.
A common thing to do is to print a benchmark.
#3DBenchy is a 3D model specifically designed for testing and benchmarking 3D printers. It is a small recognizable object that you can download for free.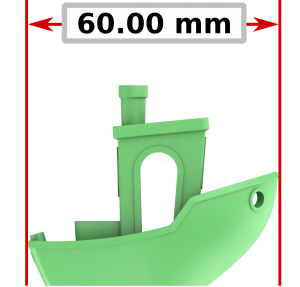 Beside Cura there are a lot of other free and paid slicers. Check also this nice article:3D Slicer Settings for Beginners – 8 Things You Need to Know

Before you start printing!
I know you're extremely eager to start printing the things you want to print right away, as was I. But my advise is to experiment first with some test prints, and read and watch more about the 3D printing process before you begin.
This next YouTube video helped me a lot to understand the terms of using 3D printer before I started. I highly recommend you watch this video before you go any further.
3D Printing: 13 Things I Wish I Knew When I Got Started

Bed leveling
Bed leveling is crucial! The space between the nozzle and the bed cannot be too small but and also not too big. A common trick is to put a paper between it and move it. Here are some tips to avoid common bed leveling faults: https://pinshape.com/blog/6-simple-steps-to-3d-printer-bed-leveling/
Updating Firmware of the Alfawise U20
Before you start you should update the firmware of your printer. These printers have a lot of firmware updates already, which is a good sign. It seems like Alfawise is very keen on supporting this device.
Download all Alfawise U20 firmware updates here.

The manufacturer will provide a zip file that contains multiple files, but you only need there two files:
Copy the 2 files to the SD card, and then restart the printer when the SD-card is in the printer. After the machine progress bar is completed, the firmware is refreshed. Then the user needs to delete the two files in the SD card before the machine is used normally. Otherwise, the firmware will be refreshed each time when started the machine.
Changelog firmware
The changelog is included in the zip file. And it looks like this:
[cc lang="bash" escaped="true" width="90%" noborder="1″] V2.14 2018/09/30 1. Modifying some system arguments in order to eliminate error reading of sd-card and tos peed up effect of "PAUSE" function. 2. Optimizing "File" funcion. "File" menu only list ".gcode" files and folders. It supports secondary-level folder in maximum. 3. Optimizing "power-cut recovery" function. Adding recovery of "elapsed time" and "temperature". 4. Opimizing some user-interface to improve user-experience. 4. Fixing other known bugs. ______________________________________________________________________ V2.13 2018/08/28 1. Fixing the compatibililty issue with Cura 3.XX, by adding "G90″(absolute position command) at start of printing. ______________________________________________________________ V2.12 2018/08/21 1. Optimizing the way of temperature monitoring, so that makes it responses more accurately and rapidly. 2. Delaying the triggering period of filament checking to decrease the probability of spurious triggering; 3. Optimizing some effects of display. It will pops up ¡°Recovery¡± dialog while printer starts up (If you broke off printing before). 4. Fixing other known bugs. _______________________________ [/cc]
Build Quality & Design
The build quality of the Alfawise U20 is fine. The metal parts are powder coated and the wires are all wrapped and labeled, even inside the power unit. The power unit, with the 2.8 inch controller panel, is quite big. This seems to be a good thing, because of the internal temperatures. Due to the unused space it's easier to add smoothers inside this box.
Power Usage and Noise
Standby and in action (heated):
The printer is printing and I measure 200 watts more usage in Domoticz. That's not an exact measuring method, so I would measure it again with a smart plug and will add it later.

Noises:
When all wheels are correctly aligned motors are really silent. But the noise came from the 2 tiny fans on the printhead. That's the reason lots of people printed their own fan-duct and replace the tiny (noisy) fans with bigger or more silenced ones.
The fan is full speed when turning on the printer and are on normal speed within a minute. Afterward the fan is only on when needed by printing.

When all wheels are correctly aligned motors are really silent. But the noice came from the 2 tiny fans on the printhead. That's the reason lots of people printed their own fan-duct and replace the tiny (noisy) fans with bigger or more silenced ones.
The fan is full speed when turning on the printer and are on normal speed within a minute. Afterwards the fan is only on when needed by printing.
Customizability
Even though this is a very good and complete 3D printer for the money, there's always room for improvement. By downloading free models from Thingiverse, it's easy to upgrade the Alfawise U20 with better parts. We call it printer mods (modifications).
Printer mods
If you search on thingiverse for the Alfawise U20 you'll see some nice projects. But if you look for CR-10 projects, you'll find even more. This printer almost looks the same as the U20, so most mods and improvements are compatible with the Alfawise printer.
My recommendations (click on the link of the pictures)
Knobs, bed strain, filament holder on top, cable clips, tool holder and cable clibs.
Second to the hardware is the software, and this is also very important. The printer is equipped with a USB port and a Micro SD reader, but connecting your printer with a computer every time you want to print something is not that efficient. So I looked for a solution, and I found one!
Octoprint
Octoprint is a free opensource software that can be running on a Raspberry Pi and is a complete printserver. It's hosting a web service where you can upload prints, start printing and control your printer. When you attach a Raspberry PI camera or webcam, it automatically creates photo's and creates a timelapse of your project.
It can be extended with lot's of plugins, my favorites are:
Print history
Cost estimation
Filament manager
Download it for free on Octoprint.org and use the plugin manager to extend your config. On the site of octoprint there are some video's and gettings started tutorials that you can follow, it's really easy.
Check also the movies of DIY3d: http://diy3dtech.com/octopi-and-octoprint-project/
Home automation compatible?
The printer itself is not compatible with home automation. However, with Octoprint you can get very close. Not only can you start a print wirelessly from your phone you can also connect it with Domoticz by a free plugin. This way you can automate some things.
But the fun part is print models for your home-automation things at home. Your own case for Nodemcu devices or for your complete Raspberry PI Domoticz:
Complementary Products
The first project I did was to print some things to improve the printer. But soon you run out of filament. So my advice is to buy filaments as soon as possible. Because there are several materials for different tasks (and you are lucky the Alfawise can print several materials) read about the specs and purposes of the different materials.
I have chosen for: white, black and green. PLA and white ABS.
Check Youtube to find out what's best for you and what are the differences between the filaments.
More info about filements:
https://all3dp.com/1/3d-printer-filament-types-3d-printing-3d-filament/
Buy filaments
Gearbest
Some dutch stores:
Smooters
I'm waiting for my smoothers. I'll show you the results and how to later.
How to use a smoother and what is does should be clear after watching the next videos:
https://www.youtube.com/watch?v=KMoVxF0Yd2M

Others
The printer uses 2020 alluminium profiles. There are tons of nuts, corners, plates etc. When attaching things it's very handy to mount camera's, spools, Raspberry PI. But I'm still thinking of what I need to make the printer as portable/small and handy.
pro and cons of the Alfawise U20
pros
High quality printer for an extremely low price, comparing to competition.
Resume function (when power fails) and handy when you running out of filament.
Out of filament detection
Supports large prints
2.8 inch full color touch screen
Heated bed
Multiple times of filament supported
cons
It is a very big device (a pro that you can print bigger things).
Software is outdated out of the box, download madenewer version of cura and firmware.
No strain relief for the heatbed cable, which is directly soldered onto the heated Bed. Because the heated Bed pulls up to 200W, and it is constantly in motion it can get loose. Print a thing for it, or by dragchains.
The knobs to level are quite small. This is a very nice thing to print and improve 😉
Verdict
I was in doubt quite a lot about buying a 3D printer. It's a lot of money, even for a budget printer, and I didn't know for sure how many times I would actually use it. But after a few test prints and experimenting with new projects from Thingiverse, I discovered a whole world of new things to try and do. It's a very fun hobby and there is still a lot to learn for me. This was a lot of fun and I am looking forward to my next projects with it.

This model can print big items, has nice features and is good for starters and advanced users.
Where to buy?
Photos of the Alfawise U20 3d printer
My prints
I made some timelapse videos with the default option in Octolapse. I use a Raspberry PI 3 with a PI camera v2.
<timelapse videos>
Additional info and external Links
I will collect the most handy links to articles and Youtube videos and will add them here later on. So this is an ongoing project 🙂
Couponcode
When ordering use this discount coupon: AlfawiseU20GB
We already wrote an article before how to use a coupon code on Gearbest.
Design

Quality

Usability

Price